Granite is a medium hardness material, this stone is composed of quartz, black mica, feldspar and other components, not easy to weathering, beautiful color, the appearance of color can be maintained for more than a hundred years will not change, durable, is a high-quality building stone, in the building from the roof to the floor can be used to granite, if the granite crushed can also be made into cement or rock filling dam, so granite and the "king of rock" The name of granite, is a good natural stone, and in China's resource reserves are abundant, but China's natural sand and gravel resources are scarce, granite these advantages, making granite sand production has become a trend. So granite crushing are required to choose what equipment? You can learn about our Guangdong Shenzhen 200T per hour granite crushing site.
Granite as a kind of medium hardness material, can use the conventional typical hard rock crushing production line. Firstly, coarse crushing is carried out, and the common jaw crusher is used to carry out the first crushing, jaw crusher is a common machine to carry out coarse crushing, which can crush most of the stone, including soft rock and hard rock. The second process is the medium and fine crushing, you can choose the cone crusher, but the stone crushed by the cone crusher is not necessarily to meet the next set of procedures, you need to add the third crushing process, impact crusher for crushing again, crushing the completed stone, after screening, qualified stone by the conveyor into the sand making machine for sand making and shaping, you can come out qualified finished sand and gravel.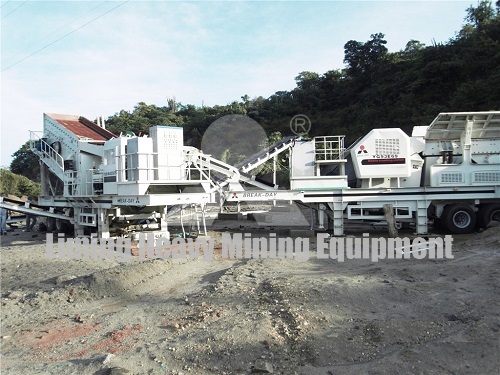 Mobile Crushing Plant
Mobile crushing plant can also crush granite,mobile crushing plant is essentially a small crushing production line, but relatively more flexible, can be transferred to the operation, for the site is not fixed customers, is a better choice. But for larger output granite crushing projects, a crushing mobile station may not have as large an output limit as a sand production line. So the crushing mobile station is flexible but more suitable for small and medium output granite crushing projects.
The granite crushing project in Shenzhen, Guangdong Province with an hourly output of 200T uses a crushing mobile station, which can meet the operational needs of flexible transfer in big cities, and processing stone in the city, to consider environmental protection issues. So this project uses our upgraded K3 series coarse crushing mobile station and K2 series medium and fine crushing and screening mobile station, which is flexible. The processing process is that the granite raw materials first enter the K3 coarse crushing mobile station for a section of crushing, coarse crushing completed material by the belt conveyor into the K2 medium and fine crushing and screening mobile station for the next step of crushing, crushing the finished product size of 31.5mm, by the finished product conveyor belt output for the finished product, the material does not reach 31.5mm by the vibrating screen screening out, back to the K2 medium and fine crushing and screening mobile station to re processing, forming a closed circuit.
If you are interested in our products please call us at 0086-371-67997088 or click Business Link Online We will be online 24 hours a day, welcome to call. Our customer service staff will provide you with detailed answers, thoughtful service, will be happy to provide you with product information and application knowledge, so that you can not only get valuable equipment, but also get our attentive service.