Driven by the new energy industry boom , the market demand for lithium ore is a continuous growth trend, China and the introduction of relevant policy support, the development prospects of enterprises a prosperous, new project planning is gradually completed, investment enthusiasm is high, the popularity of products to expand. In this industry background, lithium ore grinding processing equipment also ushered in the climax, Liming Heavy Industry Science and Technology to follow the development trend of the industry, especially the launch of a grinding equipment star product - LM vertical roller mill.
LM vertical roller mill is an energy-saving mill equipment combined with mature vertical mill technology, successful foreign experience and our company's technological innovation and upgrade. It integrates crushing, drying, grinding, classifying and conveying, and can be widely used in cement, electric power, metallurgy, chemical industry, non-metallic mining and other industries, and focuses on the three major fields of non-metallic ore, coal powder and slag.
LM series vertical mill is mainly composed of grinding roller assembly, grinding disk assembly, hydraulic station, transmission arm assembly, powder selector, main reducer, motor, body, main reducer lubrication station, hydraulic station, PLC electric control cabinet and other parts.
Technical parameters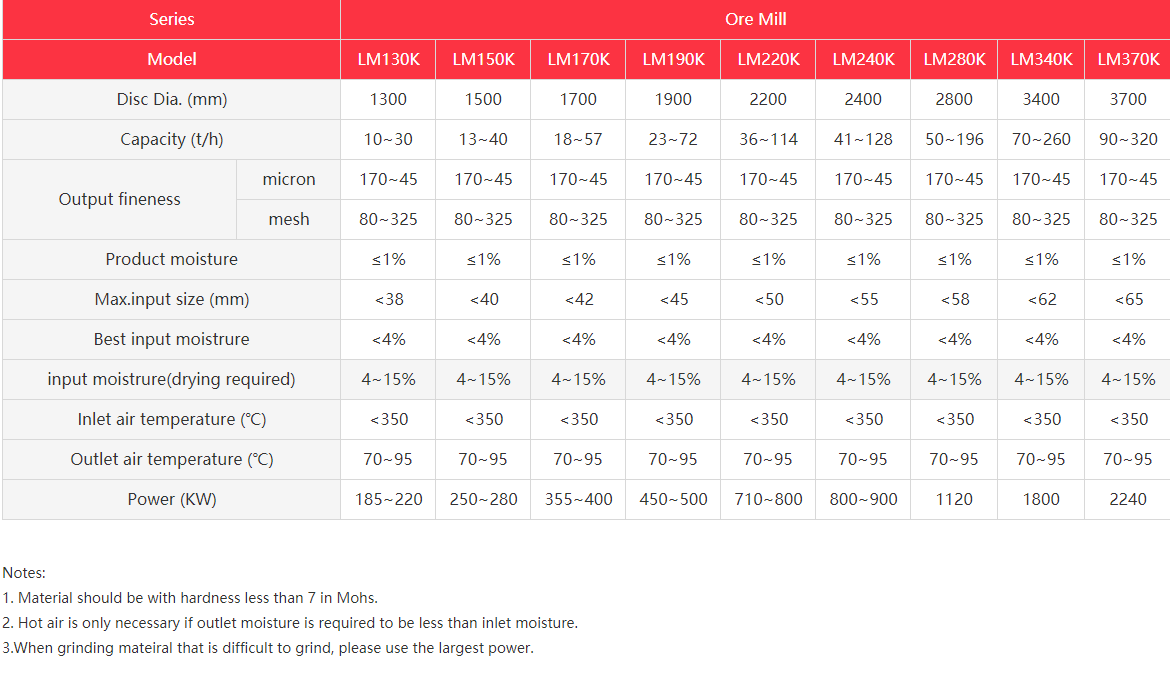 Technical parameters of LM vertical roller mill (lithium ore)
Technical advantages
Integrated design, one machine for multiple uses
Integrating crushing, drying, grinding, classifying and conveying, with compact layout and small footprint; focusing on three major fields of non-metallic ore, coal dust and slag, with mature technology, it can be applied to the grinding of raw material and clinker, and can also be used as pre-milling equipment to make the subsequent mill significantly increase production and energy saving.
Multiple initiatives to save operating costs
The grinding rollers are directly crushed on the grinding plate to reduce energy consumption; the hot air directly contacts the material inside the mill, which has a strong drying capacity and saves a dryer; the grinding roller sleeve is used to avoid direct contact between the grinding rollers and the grinding plate, which reduces wear and tear; the grinding roller sleeve can be used on the opposite side, which doubles the service life.
Double high efficiency and precision
The size of grinding force can be increased by hydraulic pressure boosting, thus increasing the output and improving the grinding efficiency; according to the different particle size requirements of the finished products, the powder selector adopts cage type powder selector and conical rotor powder selector respectively, with high precision of powder selection.
Low dust and noise pollution
The whole machine works under sealed and negative pressure, no dust overflow; with limit device to avoid destructive impact and vibration noise; the transmission system adopts planetary gear reducer, low noise.
If you are interested in our products please call us at 0086-371-67997088 or click Business Link Online We will be online 24 hours a day, welcome to call. Our customer service staff will provide you with detailed answers, thoughtful service, will be happy to provide you with product information and application knowledge, so that you can not only get valuable equipment, but also get our attentive service.