Steel slag is a waste product of the steelmaking process, consisting of silicon, manganese, phosphorus, sulphur and other impurities in pig iron, oxidised during the smelting process, and salts generated by the reaction of these oxides with solvents. Steel slag is grey-brown in colour, honeycomb or dense, with a hard texture. Steel slag can be used as a secondary resource for comprehensive use, mainly in the form of steel slag from flat furnaces and converters stored for more than a year to replace gravel as a base material, which would be a waste of resources if discarded.
The use of steel slag after making sand?
China's annual steelmaking emissions of more than 10 million tons of steel slag, steel slag treatment has been a problem in China's steelmaking industry. After processing, steel slag can be used as raw material for cement, roasted ferrate cement, in addition, steel slag is also a very good building material, the reuse of steel slag not only saves energy, but also reduces pollution.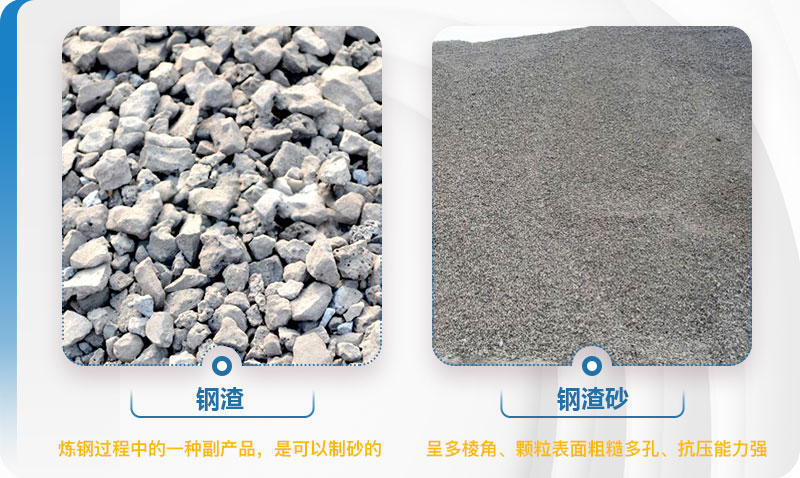 Steel slag sand
Steel slag sand production line.
Steel slag sand production line processing is mainly to recover the iron inside, the whole set of steel slag sand production equipment mainly includes crusher, fine crusher, screening equipment, magnetic separator, conveyor and other components, crushing and fine crushing is to let reduce the feed fineness into the magnetic separator equipment, in order to better recover the iron powder in the steel slag. Therefore, the degree of fine crushing of steel slag to a certain extent affects the effect of steel slag iron separation. The finer the fineness of the steel slag coming out of the fine crusher, the better the effect of steel slag iron separation.
Steel slag sand production line equipment configuration
Steel slag → vibrating feeder → jaw crusher → cone crusher → sand making machine → vibrating screen → conveyor → finished sand.
Our VSI new sand making machine (new impact sand making machine) produced by Liming Heavy Industry is one of the equipment with fine crushing effect of steel slag and small particle size coming out at present. The equipment is not only the equipment in the field of mechanism sand production and processing, but also a good product for fine crushing of hard steel slag and fine crushing of various kinds of ores.
Steel slag sand production process
1, first determine the location of coarse crushing, arranged in the vicinity of the treatment plant, in order to reduce the distance of raw material transportation, steel slag through the vibrating feeder uniform continuous feeding to the jaw crusher for coarse crushing, and then by the belt conveyor to the cone crusher for secondary processing to meet the size of sand production needs.
2、After crushing treatment, it is then evenly sent to the sand making machine for sand making and shaping, producing the feed material less than 55mm into 0.25-0.5mm size, and then transferred to the next production process.
3、Steel slag enters the vibrating screen via conveyor, 4 layers of screen, 3 sizes of sand can be screened at one time, the finished sand is stored or transported to the construction site by pick-up truck.
If you are interested in our products please call us at 0086-371-67997088 or click Business Link Online We will be online 24 hours a day, welcome to call. Our customer service staff will provide you with detailed answers, thoughtful service, will be happy to provide you with product information and application knowledge, so that you can not only get valuable equipment, but also get our attentive service.