With the ban of natural sand, the demand for artificial sand production has increased. Compared with mining natural sand and gravel aggregate, artificial sand and gravel aggregate is more important. Its advantages of uniform particle size and controllable grain shape meet the needs of customers. The probability of customers investing in sand production line is to earn money, so the point of consideration for the return of sand production line is also essential. Sand production line construction meets the characteristics of low energy consumption, short construction period, easy maintenance, etc. Sand making machine is the more important equipment in sand production line and is the core equipment.
A complete sand production line includes the following equipment.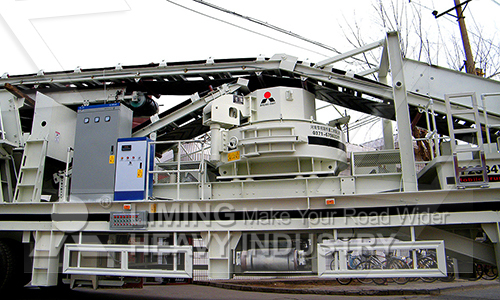 Mobile sand making production line
Vibrating feeder: in the sand production line is the crushing equipment uniform continuous feeding and screening of materials.
Crusher: output value range 1-200t/h, mainly crushing all kinds of stone, crushing strength, high output value, crushing principle is simple, solid and reliable, according to the different crushing principle and product particle size is divided into many models.
Sand making machine: capacity 70-500t/h, available for crushing low hardness or medium hardness, very hard ore materials, generally used for crushing materials after shaping fine crushing, etc.. It can meet the customer's raw material processing, discharge size, daily operating hours, etc. The whole interchangeable, more durable and environmental protection.
Sand washing machine: remove impurities from sand products, remove impurities covering the surface of sand and gravel, and play a cleaning role. Improve the quality of finished sand and gravel aggregate.
Vibrating screen: mainly screening function.
Belt conveyor: transport sand materials.
The advantages of mobile sand production line are small mobile footprint, low cost, high output, adjustable fineness modulus, adjustable moisture content, good dust removal, energy saving, simple structure, low failure rate, good grain shape, intelligent control, green environmental protection; application scope: coal mines, roads, construction sites, urban facilities, mines, stone plants, etc.; applicable materials: construction waste, limestone, cement pavement, granite, river pebbles, basalt, etc.
If you are interested in our products please call us at 0086-371-67997088 or click Business Link Online We will be online 24 hours a day, welcome to call. Our customer service staff will provide you with detailed answers, thoughtful service, will be happy to provide you with product information and application knowledge, so that you can not only get valuable equipment, but also get our attentive service.