Mechanized sand and gravel aggregate is a large, irreplaceable and indispensable material in the construction of infrastructure such as buildings, roads, bridges, water conservancy and hydropower. The prohibition of natural river sand mining has forced the use of mechanism sand instead, but the state requires to focus on environmentally friendly production and protect our environment.
Why choose sand making building? Sand making building is an advanced mechanism sand production line with reliable performance, energy saving and environmental protection. It is a dry sand making system, and its whole is highly intensive, reducing the floor space, and also closed to prevent dust spillage. It can carry out grain shape optimization and stone powder content control. The sand making building adopts air screen, which has finer and more accurate grading precision, and can realize the regulation of powder content between 5~13%.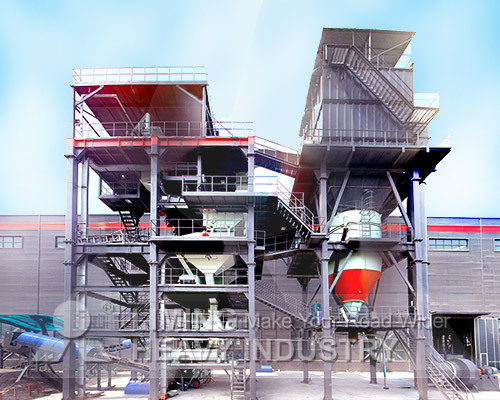 tower sand making building
Due to the working mode of return type closed circuit system, the sand making building can be made to set the water content of the product by adding water mixer according to the need, which not only improves the granularity and size of the sand, but also prevents the problems of dust and uneven sand size. It effectively improves the particle shape of the finished mechanism sand and realizes the improvement of each index of the finished mechanism sand such as particle shape, particle size, gradation and powder content. It provides a reliable guarantee for commercial concrete, dry-mix mortar producers, mining sand and gravel quarries and other industries.
The sand making building can well handle cheap all kinds of mine tailings, waste materials, construction waste and other materials, and process them into high-quality mechanism sand aggregates. For mine tailings, scrap and construction waste, these things are some polluting and damaging things in themselves. The state also supports the mining practitioners to recycle these materials, and has also introduced relevant policies to produce recycled aggregates by using construction waste and so on, which will be supported by state funds.
The VU aggregate optimization system of Liming Heavy Industry consists of VU impact crusher, VU mold-controlled screen, VU granule optimizer, humidifying mixer, dust collection module and central control system. The minimum output of a single unit is 75 tons per hour, and the maximum capacity of a single unit reaches 270 tons per hour.
If you are interested in our products please call us at 0086-371-67997088 or click Business Link Online We will be online 24 hours a day, welcome to call. Our customer service staff will provide you with detailed answers, thoughtful service, will be happy to provide you with product information and application knowledge, so that you can not only get valuable equipment, but also get our attentive service.