Leaf wax stone is a kind of clay mineral with low hardness, which is suitable for making abrasives for artificial diamond, ceramics, refractory materials, glass fiber, carving stone and so on. It can be widely used in ceramics, metallurgy, building materials, chemical industry, light industry and other industrial sectors. Chlorite powder is hydrated aluminum silicate fine powder, mostly used in high-end equipment manufacturing, new materials, new energy, a new generation of information technology, biotechnology and other emerging industries, to improve the cracking and shrinkage of products and reduce the infrared penetration of products destructive. China's leaf wax stone mines are mostly located in Fujian and Zhejiang provinces, with an annual production capacity of about 140,000 tons. Today we will learn about the selection of leaf wax stone environmental protection grinding machine and the structural composition of the equipment.
Leaf wax stone continues to enter the high-end market. How to choose leaf wax stone environmental protection grinding machine? For leaf wax stone, we push to use vertical mill. Vertical mill is a kind of high-efficiency machinery integrating drying, grinding, classifying and conveying. Energy-saving advanced powder making equipment. Vertical mill has the advantages of high grinding efficiency, low electricity consumption, large feed size, easy adjustment of product fineness, simple equipment process, small footprint, low noise, small dust, easy operation and maintenance, low operating cost, and the advantages of less wear-resistant material consumption. The system is sealed as a whole and operates under full negative pressure. The air outlet is equipped with pulse dust removal system, no dust overflow. Basically, it can realize the dust-free workshop and meet the requirements of environmental protection. Widely used in electric power, metallurgy, cement, chemical, non-metallic mining and other industries, mainly for cement raw material, clinker, power plant desulfurization limestone powder, slag powder, manganese ore, gypsum, coal, barite, calcite, bauxite and other materials by grinding and processing.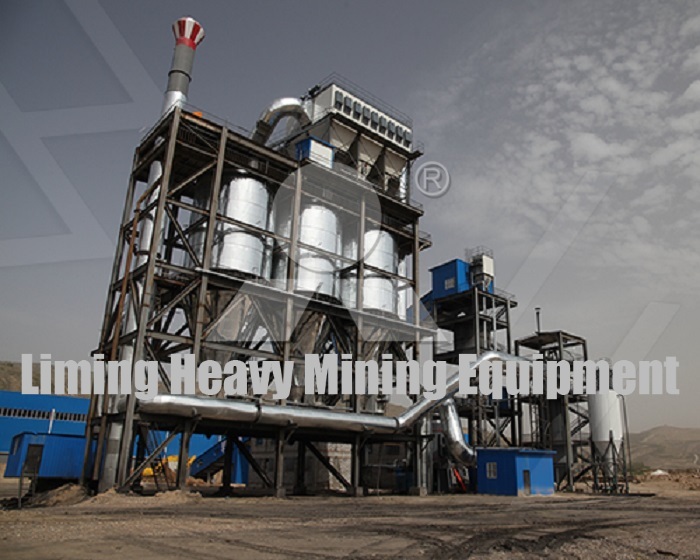 Chlorite Vertical Grinding Mill
Leaf wax stone vertical mill is composed of separator, shell, grinding roller, grinding disk, transmission arm, transmission device, frame, pressurization device, limit device and other parts. Its working principle is to use the grinding roller to squeeze the material on the grinding disc, and rely on the airflow and separator to bring the particles that meet the fineness requirements out of the mill and collect them as finished products through the dust collector. Inside the vertical mill, the larger particles in the airflow fall back to the grinding plate for grinding under the effect of gravity. This process needs to be carried out several times to make the fineness meet the requirements, and can produce 80-325 mesh chlorite powder.
If you are interested in our products please call us at 0086-371-67997088 or click Business Link Online We will be online 24 hours a day, welcome to call. Our customer service staff will provide you with detailed answers, thoughtful service, will be happy to provide you with product information and application knowledge, so that you can not only get valuable equipment, but also get our attentive service.