There are no longer a few sand making machines on the market, the sand making machine out of the sand grain type is good or bad directly affect the yield of the finished material, the finished sand of the sand making machine on the market is usually unreasonable gradation, rough surface, high stone powder content and other problems. Want to produce sand grain type good? This shaping sand making equipment is indispensable - VSI6X series vertical shaft impact crusher.
Liming Heavy Industry absorbed many years of research and development experience and technical concepts, using a new four-port impeller design structure and special sealing structure to prevent oil leakage from the bearing cylinder and other processes, developed the sixth generation of VSI6X Series Vertical Shaft Impact Crusher, a new type of sand crushing equipment with a number of national patented technologies, to help large sand farms to gradually move towards large-scale, centralized production to meet the national requirements for environmental protection and production capacity.
VSI6X series vertical shaft impact crusher graphic introduction. When it comes to sand making equipment with good discharge granularity, we have to mention the vertical shaft impact crusher, the sand making machine both sand shaping effect, the sixth generation of the new VSI6X sand making machine higher efficiency, better granularity and greater output.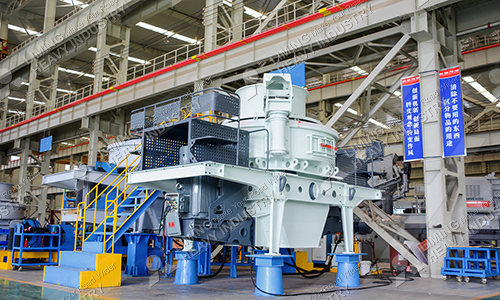 VSI6X sand making machine
Craftsmanship, excellent performance - the equipment continues to upgrade a variety of advantages for your protection::
1 new four-port design: wheel structure using a new four-port design, improve the material throughput, compared to the three port impeller crushing efficiency of the same material increased by about 20%.
2 stone to stone working principle: "stone to stone" working mode to reduce the use of wear-resistant types, reduce customer production costs; impeller part of the structure and process adjustment, compared with the previous equipment in crushing the same material conditions impeller part of the service life of 30 ~ 200%.
3 special sealing structure: the special sealing structure of the preparation transmission part to prevent oil leakage from the bearing cylinder, won a number of national patents; bearing using imported bearings to reduce the transmission system failure.
4 convenient maintenance and repair: increase the lifting device to facilitate customer maintenance of the equipment, maintenance labor-saving; simple lower body structure design to effectively prevent the material moisture content is too large when the lower body blockage, reduce downtime, operation.
If you are interested in our products please call us at 0086-371-67997088 or click Business Link Online We will be online 24 hours a day, welcome to call. Our customer service staff will provide you with detailed answers, thoughtful service, will be happy to provide you with product information and application knowledge, so that you can not only get valuable equipment, but also get our attentive service.