Dolomite is a mineral, its crystal structure is similar to calcite, it is the composition of dolomite and dolomitic tuffs have the main mineral components, in China's distribution of mineral resources, rich reserves, including in Shanxi magnesium magnesium dolomite resource reserves reached 845 million tons, metallurgical dolomite 1,724 million tons, with low impurity content, is an indispensable mineral resources, the development of the future has a very good trend. It is a rare mineral resource and has a good trend in future development.
Dolomite is widely used in building materials, ceramics, glass and refractory materials, chemical industry, as well as agriculture, environmental protection, energy saving and other fields. With the development of science and technology, the improvement of production process, the improvement of filler application technology and environmental protection requirements, China's dolomite industry continues to develop. As a large country of dolomite production and marketing, China not only meets the domestic demand for related industrial production, but also has been exported to foreign countries, and shows a good development trend. Dolomite application market has broad prospects.
Dolomite powdering is generally divided into dolomite coarse powder processing (0-3MM), fine powder processing (20 mesh-400 mesh), as well as dolomite ultra-fine powder deep processing (400 mesh-1250 mesh) and micropowder processing (1250 mesh-3250 mesh) four types.
Dolomite bulk material is crushed by crusher to the feeding fineness (15mm-50mm) that can enter the mill.
After crushing, the dolomite small pieces are sent to the silo by elevator, and then fed into the grinding chamber of the mill by vibrating feeder for grinding evenly and quantitatively.
Fine powder processing can choose LM vertical roller mill, MTW European version of the mill, 5X European version of the intelligent mill;
Ultrafine powder can be processed by MW Ring Roller Mill, LUM Ultrafine Vertical Mill;
Coarse powder processing can choose CM European coarse powder mill.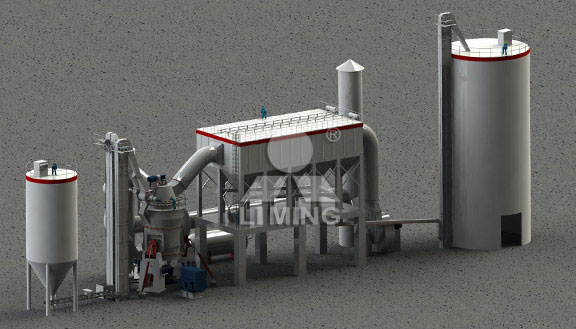 Grinding Production Line
For more information, please contact our customer service staff, we provide one-stop overall solutions and services from planning to production.
If you are interested in our products please call us at 0086-371-67997088 or click Business Link Online We will be online 24 hours a day, welcome to call. Our customer service staff will provide you with detailed answers, thoughtful service, will be happy to provide you with product information and application knowledge, so that you can not only get valuable equipment, but also get our attentive service.