Rio Tinto and Shougang have been trading and technology partners for nearly 30 years, and this latest collaboration is a strong endorsement of Rio Tinto's strategic commitment to working with its customers to explore pathways to carbon reduction in steel and demonstrates Rio Tinto's commitment to investing in low carbon technologies," Rio Tinto said recently. Initial areas of focus include, but are not limited to, blast furnace slag waste heat recovery, converter slag utilization, carbon capture and utilization, and low carbon sintering technologies. According to the World Steel Association, approximately 70% of the world's crude steel is produced through the blast furnace-converter method.
For example, the treatment process of blast furnace slag can be divided into water quenching granulation process, dry granulation process and chemical granulation process. In China's industrial production, the main water quenching granulation process as the blast furnace slag treatment process, but the water slag treatment process there are the following problems: the consumption of new water, slag residual heat is not recovered, the system maintenance workload, slag flushing produces sulfur dioxide and hydrogen sulfide and other gaseous sulfides to bring air pollution. When grinding, slag must be dried, consuming a lot of energy. Therefore, the use of dry granulation of blast furnace slag as raw materials for cement, while the efficient use of slag sensible heat, reduce environmental pollution, is the development trend of blast furnace slag treatment.
Blast furnace slag as road construction aggregate, the United States and Japan, etc. that the mechanical properties of blast furnace slag aggregate is better than rolled gravel, not only wear-resistant, but also has a certain degree of hydration activity, suitable for use as asphalt mixture aggregate and grass-roots level aggregates, and the development of a blast furnace slag road aggregates and construction specifications of the technical standards.
When grinding LM Vertical Mill can meet the grinding needs of the process, LM Vertical Roller Mill is an energy-saving mill equipment that combines mature vertical mill technology, successful foreign experience and our company's technological innovation and upgrading. It integrates crushing, drying, grinding, classifying and conveying, and can be widely used in cement, electric power, metallurgy, chemical industry, non-metallic minerals and other industries, and focuses on three major fields of non-metallic minerals, coal powder and slag.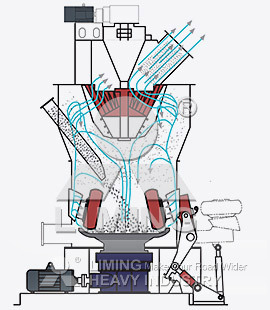 LM vertical mill
LM vertical mill has the following performance advantages:
1, set crushing, drying, grinding, grading and conveying in one, compact layout, small footprint; focusing on the three major fields of non-metallic minerals, coal powder and slag, the process is mature, can be applied to both raw material and clinker grinding, but also as a pre-powder milling equipment to make the subsequent mill significantly increase production and energy saving.
2、Mill rollers directly crush and grind materials on the milling disk, reducing energy consumption; hot air directly contacts materials in the mill, with strong drying capacity, saving a dryer; the use of mill roller sleeve avoids direct contact between the mill rollers and the milling disk, reducing wear and tear; the mill roller sleeve can be used in the opposite direction, doubling the service life.
3, through the way of hydraulic pressurization can increase the size of grinding force, thus increasing the output and improving the grinding efficiency; according to the different particle size requirements of the finished product, the powder selector respectively adopts cage powder selector and conical rotor powder selector, with high precision of powder selecting.
4、The whole machine works under sealed and negative pressure, no dust spillage; with limit device to avoid destructive impact and vibration noise; the transmission system adopts planetary gear reducer, low noise.
If you are interested in our products please call us at 0086-371-67997088 or click Business Link Online We will be online 24 hours a day, welcome to call. Our customer service staff will provide you with detailed answers, thoughtful service, will be happy to provide you with product information and application knowledge, so that you can not only get valuable equipment, but also get our attentive service.