Among all the equipment of Liming Heavy Industry, there is a piece of equipment which is loved by old customers, with many repeat customers, and is a highly respected star equipment, it is 5X series European version intelligent mill, at the beginning of its birth, it was given a high gold content: large capacity, intelligent environmental protection, high yield, low energy consumption, overseas experience from Germany also plated the 5X series European version intelligent mill with the aura of a schoolmaster, 5X series European version Intelligent grinding machine, what makes you so popular?
European version of the intelligent mill performance characteristics
1、intelligent environmental protection : the use of pulse dust collector, low dust; the use of new shock-absorbing structure design, small vibration, low noise. Beautiful curved appearance design, reduce the risk factor when operating manually; is an intelligent mill.
2、high output: under the same power, the output is 20% higher than the traditional Raymond mill and pendulum mill, with high output, low energy consumption and energy-saving products.
3、Economy of operation: The wearing parts such as grinding roller, grinding ring and shovel are made by special technology and material, which are more wear-resistant, easy to replace wearing parts and low maintenance cost.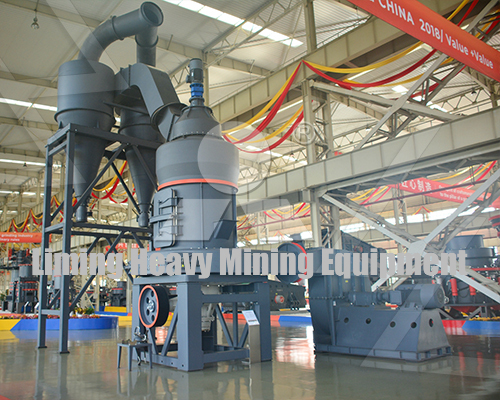 European version grinding mill
The series of products have won six patented technologies, passed the industrial energy-saving product certification, EU CE certification, Russian GOST certification and many other scientific and technological achievements identification, unique structure design and full thin oil lubrication system, breaking through the traditional mill structure and capacity bottleneck, is the traditional pendulum mill, Raymond mill, and ball mill and other new replacement products, large-scale mineral processing scale plant construction, environmental protection and intelligent production. It is the preferred equipment.
The European version of the mill is a high technology and automation grinding product of Liming Heavy Industry, the buyers are mostly large scale, high output, high quality powder demand customers, they value the 5X series European version of the mill does not require frequent refueling, maintenance, easy replacement of wearing parts and other features to reduce the economic losses caused by downtime.
Our company insists on the tenet of "quality first, customer first", regards product quality and reputation as the life of the enterprise, and is willing to wholeheartedly provide users with excellent products and enthusiastic service. We will configure the equipment according to the needs of your project and then give a quotation.
If you are interested in our products please call us at 0086-371-67997088 or click Business Link Online We will be online 24 hours a day, welcome to call. Our customer service staff will provide you with detailed answers, thoughtful service, will be happy to provide you with product information and application knowledge, so that you can not only get valuable equipment, but also get our attentive service.